DRNS Conference 2022 – "Complex lives and complex systems: Untangling the complexity through drugs research"
26th May 2022
About the Conference
On 26th May 2022, the Drugs Research Network Scotland (DRNS) will be running a one-day online conference on the subject of "Complex lives and complex systems: Untangling the complexity through drugs research". Through a series of keynote presentations, shorter "Research Bite" presentations, networking opportunities, and panel discussion, the conference will encourage delegates to expand their understanding of the wide-ranging complexities affecting the field of drug use and consider the research being done to address them.
Conference ticket registration is now open and can be accessed below. Standard ticket price is £50, with free tickets available for full-time students and unwaged individuals. If you believe you fall within either of these categories, please email admin@drns.ac.uk for a promo code to enter at checkout. One registration is permitted per email address.
We are now pleased to offer a 'group booking' option for organisations looking to register 5 delegates or more. For every 5 tickets purchased, we will be able to offer one complimentary free ticket. Please contact admin@drns.ac.uk for more details and to process a group booking.
Keynote speakers
Bruce Wallace
Bruce Wallace is an Associate Professor at the University of Victoria's School of Social Work and a Scientist with the Canadian Institute for Substance Use Research (CISUR). Bruce's research has been responsive to the illicit drug overdose emergency in British Columbia, Canada as he co-leads several initiatives including implementation and impacts of community drug checking (https://substance.uvic.ca) and the sanctioning of overdose prevention sites. As a social worker and an engaged researcher he has many years of experience with community non-profit agencies, often collaborating with consumer-led agencies, focused on poverty, homelessness, mental health, substance use and harm reduction. The title for his keynote presentation is: "Drug Checking: Where the Research is Service and Service is Research"
Keith Humphreys
Keith Humphreys is the Esther Ting Memorial Professor in the Department of Psychiatry and Behavioural Sciences at Stanford University. He is also a Senior Research Career Scientist at the VA Health Services Research Centre in Palo Alto and an Honorary Professor of Psychiatry at the Institute of Psychiatry, King's College, London. Dr Humphreys has been extensively involved in the formation of public policy, having presented evidence to the U.S. Congress and UK Parliament on multiple occasions, and having served as a member of the White House Commission on Drug Free Communities. During the Obama Administration, he spent a sabbatical year as Senior Policy Advisor at the White House Office of National Drug Control Policy. He assisted Professor Dame Carol Black with her influential review of UK drug policy and currently leads the Stanford-Lancet Commission on the North American Opioid Crisis. The title for his keynote presentation is: "Creating evidence-informed public policies addressing addiction".
Gail Gilchrist
Gail Gilchrist is Professor of Addictions Healthcare Research at the National Addictions Centre, King's College London. Her research focuses on understanding the relationship between substance use and intimate partner abuse; and developing and testing interventions to address these co-occurring complex issues. Prior to joining King's in 2013, she has held research posts in the UK, Australia and Spain. Gail currently leads an NIHR programme grant on developing and testing an intervention to reduce intimate partner abuse by men in substance use treatment https://www.kcl.ac.uk/research/advance. The title of her keynote presentation is: "Addressing intimate partner abuse perpetration by men in treatment for substance use"
Mat Southwell
Mat Southwell was one of the first generation of harm reduction workers to respond to HIV among people who inject drugs. Mat founded the Health Options Team (HOT) in 1991 and went onto lead East London and City NHS Drugs Services. This included a dynamic partnership with local GPs in a pioneering shared care OAT scheme that engaged some of the most marginalised people who use drugs in healthcare. Mat came out publicly as a drug user activist on a BBC TV documentary in 2001. Since this time, he has worked in the drug user rights movement from the local to the global. He is half-time Project Executive for the European Network of People who Use Drugs (EuroNPUD) and works with Coact as a technical support consultant in humanitarian aid specialising in harm reduction and community mobilisation. Mat is a strong supporter and reluctant consumer of OAT. The title for his keynote presentation is: "Drug Treatment as a Tool of Empowerment"
Conference programme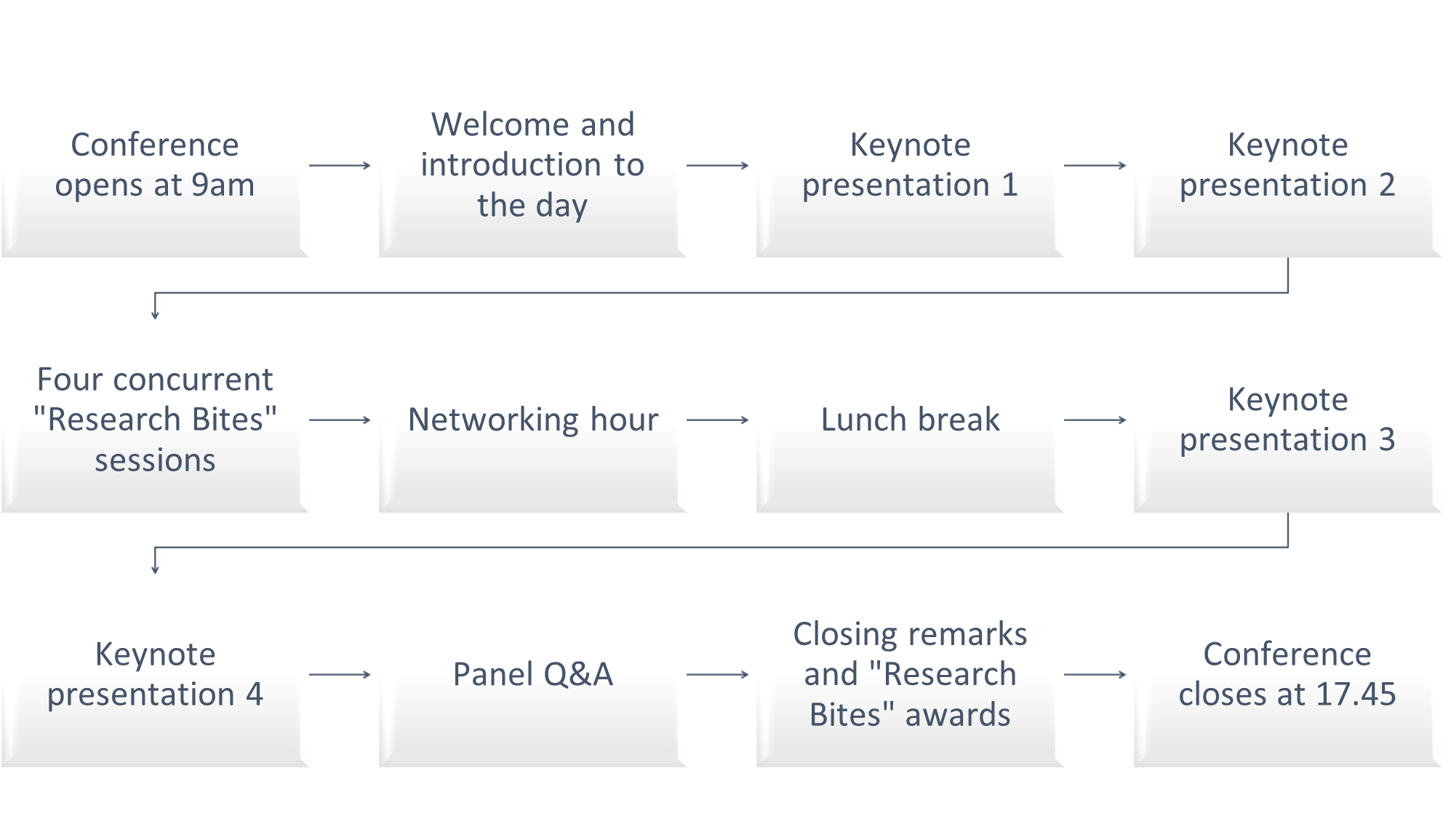 Timings
Morning Session (9:00am – 1:15pm): Chair, Duncan Hill
Conference opening address: Angela Constance (9:00-9:10am)
Keynote presentation and Q&A: Gail Gilchrist (9:10-10:05am)
Comfort break (10:05-10:15am)
Keynote presentation and Q&A: Mat Southwell (10:15am-11:10am)
Break/move to breakout sessions (11:10-11:15am)
Research Bite sessions: 5 rooms, 6 pre-recorded presentations in each (11:15am-12:30pm)
Networking hour (12:30-1:30pm) The networking hour will allow delegates to view Research Bites presented in other rooms, as well as opportunity to invite other delegates/speakers for private conversations, or participate in network 'speed-dating'.
Lunch break (1:30-2:40pm) – long break to account for international afternoon speakers. Breakout rooms will remain open during the lunch break for delegates to continue networking and view Research Bite videos
Afternoon Session (3:00-5:45pm): Chair, Dave Liddell
Keynote presentation and Q&A: Keith Humphreys (2:40-3:35pm)
Keynote presentation and Q&A: Bruce Wallace (3:35-4:30pm)
Comfort break (4:30-4:35pm)
Panel discussion: How to maximise the role of evidence in drug policy
All keynotes and Orlando Heijmer-Mason, Chaired by Catriona Matheson (4:35-5:35pm)
Conference closing statement (5:35-5:45pm)
Research Bite Sessions
DRNS is keen to showcase the excellent work being done to address complexity in the policy, practice, treatment, as well as in the experience, of drug use. 'Research Bite' sessions will allow presenters to introduce others to the work they are doing through a series of short presentations. Submissions to create a Research Bite presentation are welcomed from a wide range of people. We anticipate that this might include researchers, lived/living experience contributions and from practitioners working in the field.
Research Bite sessions will be split into five parallel groups of 6 presentations which will run over the course of an hour. Each presentation will include a short pre-recorded presentation (5-7mins). Once all presentations have been viewed there will be a "live" question and answer session between presenters and attendees. A networking hour will follow the Research Bites where discussions can continue. This will include the facility to ask presenters for one-to-one discussion. Delegates will have the opportunity to access the video content from other parallel sessions throughout the conference.
The broad theme groups for the Research Bites and presentation titles are as follows:
Drug-related Deaths
How feasible and accessible is a community pharmacy delivered take home naloxone (THN) intervention for patients prescribed high-strength opioids for chronic non-cancer pain? Findings from the POOR 2 study. Dr Fiona Mercer, Salvation Army Centre for Addiction Services and Research
Benzodiazepines and Z-drugs prescriptions trends over time among the Aberdeen Children of the 1950s and chronic prescriptions associated characteristics. Hadah Alkhaldi, University of Aberdeen
Identifying typologies of drug-related death using linked, administrative health care data. Catherine Arkwright, University of Dundee
Preventing Drug-Related Deaths: The role of GPs and Primary Care. Dr Katie Colliver, University of the West of Scotland
Co-morbidity among 4,451 drug-related deaths in Scotland 2009-2016: A network analysis of 230 Health and Social Conditions. Dr Rosie Seaman, University of Glasgow
A mixed methods evaluation of peer-to-peer naloxone training and supply. Dr Matthew Smith, Glasgow Caledonian University
People with Complex Lives
"We are people with complex issues and challenging histories" – Exploring the embodied recoveries of mid-life and older women in substance use recovery. Dr April Shaw, Kings College London
'Holding On' – Supporting families with highly complex and 'tangled' lives. Justina Murray, Scottish Families Affected by Alcohol and Drugs
"It maybe doesn't seem much, but to me it's my kingdom": staff and client experiences of Housing First in Scotland. Dr Joanna Miler, Salvation Army Centre for Addiction Services and Research
"What makes the difference is that s/he understands": findings from the SHARPS feasibility mixed-methods study. Dr Rebecca Foster, Salvation Army Centre for Addiction Services and Research
Mothers, caregivers and young people affected by drug use: Weaving whole approaches. Joyce Nicholson, University of Glasgow
The detection, prevalence and emerging models of use of novel benzodiazepine-type drugs in prisons. Victoria Marland, University of Dundee
Methods & Models
Developing a logic model for evaluating residential rehabilitation. Dr Margaret Callaghan, Public Health Scotland
Planet Youth, Icelandic Model in Highland. Eve Macleod, NHS Highland
Untangling the complexity of practitioner-parent relations: Methodological reflections on reformulating research during COVID-19 around parents who use drugs. Dr James Todd, NMAHP Research Unit, University of Stirling
Exploring complexities of stigma surrounding substance use disorders in Scottish local policy-making context: A review and thematic analysis of Alcohol and Drug Partnerships' strategies. Robin Falconer, University of Stirling
Developing an intervention to manage benzodiazepine dependence and high-risk use in the context of escalating drug related deaths. Dr Karen Berry, Salvation Army Centre for Addiction Services and Research
"You ask for peer research, you get peer research": Reflections on the creation of a peer research initiative. Josh Dumbrell, Drugs Research Network Scotland
Treatment
What works?: User perspectives on StimulantAnt/Agonist Therapy (STAT) included in BC's Clinical Guidelines for Safe Prescription Alternatives. Juls Badau, University of British Columbia
Psychedelic Assisted Therapy for problematic substance users in Scotland. The role of the Scottish Psychedelic Research Group (SPRG). Dr Anna Ross, University of Edinburgh
Greenspace programmes for supporting mental health and people with problem substance use. Dr Wendy Masterton, Salvation Army Centre for Addiction Services and Research
Residential Rehabilitation in Scotland: Perspectives from alcohol and drug partnerships, rehab providers and people with lived experience. Dr Laura Roe, Scottish Government
Medication Assisted Treatment: Service evaluation of people's experience of accessing MAT in 6 health board areas across Scotland. Katy Macleod, Scottish Drugs Forum
Care Pathways & Systems
A complexity science approach to measure "joined up working": Collaboration networks for substance use, sexual health and blood borne virus service provision. Dr Mark McCann, University of Glasgow
Feasibility of cervical cytology screening in an addiction setting. Dr Edmund Stewart, NHS Lanarkshire
COVID related disruption to formal and informal networks of people who use substances or treatment services. Dr Mark McCann, University of Glasgow
Exploring complex antenatal care pathways for women who use opioids in pregnancy. Thomas Hughes, University of Dundee
A qualitative exploration of three hypothetical models of drug checking service delivery in a Scottish content. Danilo Falzon, Salvation Army Centre for Addiction Services and Research
Understanding the drugs and alcohol workforce in Scotland. Joshua Bird, Scottish Government
If you have any questions or queries relating to the Conference, please email
admin@drns.ac.uk
Share This Story, Choose Your Platform!